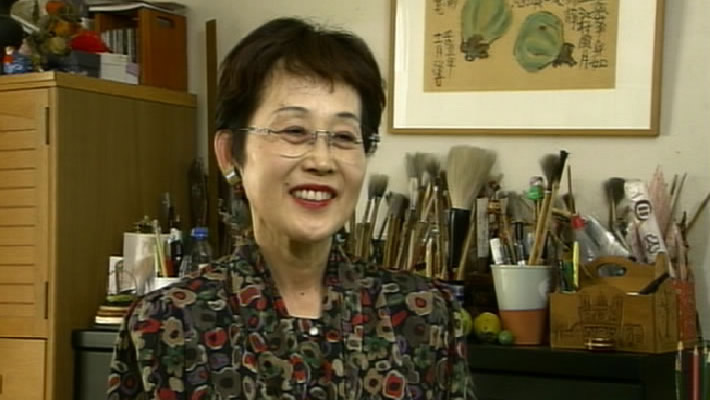 Etegami (art letters) and me
I always liked writing letters since when I was a child, and I even have a pen-friend that I have been exchanging letters since the first grade of junior high school. I started drawing pictures at certain point in my life, and gradually went onto writing art letters basically because I liked writing letters to begin with.
My first encounter with a Fude
One day, I made a drawing of an apple using a Fude. I enjoyed that experience so much, and I started drawing a number of things with Fude. With pens and pencils, the pictures tend to lack a strong presence, but when I draw with a Fude, it is as if my emotions are directly reflected onto the paper. I feel that Fude allow me a wide range of expressions, and now I mainly draw with Fude.
Fude of Kumano
Almost 90%-100% of Fude I use are made in Kumano. They are soft yet firm at the same time. I use that kind of Fude, which also holds sumi ink well when I work on something large.
Send Etegami
Send a get-well card to someone who is in the hospital, or to your husband away from home for his job assignment, or maybe to your aging mother or father who live away from you. For those people who have children living far from home for their study or work, sending art letters can help strengthen their family ties.
Since we are human beings, sometimes we feel happy, sad or lonely. But just one letter can make someone's heart warm and gentle. Every time I think of such a strong energy one little card has, it makes me realize how wonderful art letters are.